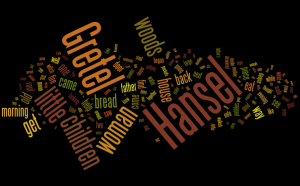 Fairy tale author and scholar Kate Bernheimer on "Surviving An Adult World in Fairy Tales, and Real Life."
I'm very proud to announce the first instalment of my new column at Luna Station Quarterly. The column title is "What's in a Fairy Tale." My first essay is "Dark Side of the Fruit," which takes a closer look at the evil queen's poisoned apple.
LSQ has a brand new format. I hope you'll stop by regularly to read the works of the new contributors.
The sentimentalization of bears began with "Teddy's Bear," that cute and cuddly version of the powerful predator that was first manufactured following President Theodore (Teddy) Roosevelt's refusal to shoot a malnourished and frightened she-bear who had been tied to a tree for him to "hunt" at his leisure. It's a fascinating story, one that I wrote about on June 27, 2010 ("Teddy Bear Country").
At the end of that post, I wrote, "I now know when the sentimentalization of bears began, but I don't know why. Do you?"
Exactly four years later, I have my answer, in the form of a TED talk given by Wild Ones author Jon Mooallem: "The strange story of the teddy bear, and what it reveals about our relationship to animals." Jon Mooallem is a wonderful speaker and his thesis about the sentimentalization of bears is thought provoking.