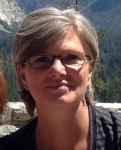 Welcome to my site!
Although I enjoyed writing descriptive paragraphs while still a child, it didn't occur to me that it wasn't a childish pursuit. As an eager reader, I should have known better: who the heck was writing all those books anyhow? I still have my earliest attempt to write a novel, all 13 handwritten pages, in pencil. It was about wolves, of course, since I have always been crazy about dogs and wolves. I stopped writing when my grade seven English teacher took a look and mentioned that I should add dialogue. That meant adding people. There was no way I was going to have people in my book. Eventually, there was no more book.
I took degrees in mathematics and education, but the urge to write never abandoned me. In 2001, my first poem was published in the millennial issue of Prairie Fire. From 2006 to 2008, I wrote a regular column, features, and essays for Cahoots Magazine, a women's quarterly that has since closed shop.
In 2010, I started a blog called The Giant Pie, which still exists on this site, only without the moniker. I create children's stories and educational materials, which are published at CurrClick.com.
However, my giant, mid-life aha! moment came when I discovered The Endicott Studio's Journal of Mythic Arts, co-edited by the talented and visionary duo: Terri Windling and Midori Snyder. This was sustenance along the path of authorial self-discovery, indeed.
My immersion in mythic literature, folklore, and fairy tales–a reclamation of the earliest stories that had sustained me as a child–led to my rediscovery of the science fiction and fantasy that I had once loved and then nearly forgotten.
In 2010, "Nettie's Tale," my first original fairy tale was published by New Fairy Tales. Then, in 2011, my fable "Raven and Rose" was published in Luna Station Quarterly. This began a fruitful relationship with LSQ: I write a quarterly column for the website, and I'm on staff as an assistant editor.
I am still writing fairy tales, but also other types of fantasy. More recently, I've begun to write science fiction as well. Links to my stories and other writing are accessible via the navigation menu at the top of this site.
Oh, and one more thing. I provide editing services for the earth sciences. If interested, please click on the logo below, and you'll be directed to the Earth-Word Editing website.
I hope you'll take some time to explore this site. Thank you for stopping by!